Have you ever gone to a conference, learned all the things and gone back to your team, ready to implement every last morsel of information? How did they respond? Probably with a face that would make you think lobsters are trying to escape from your head.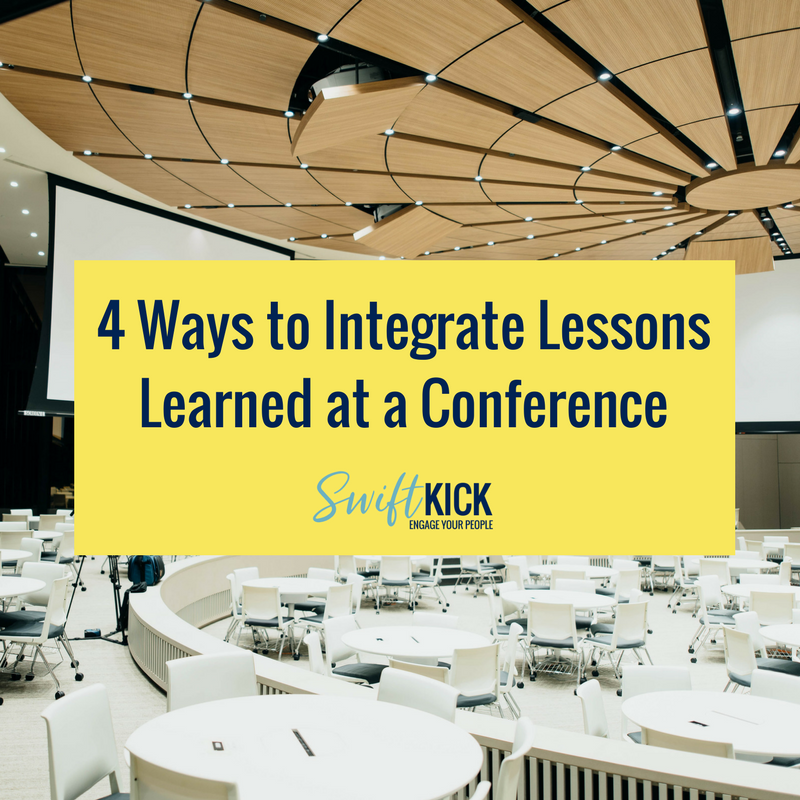 Rather than trying to turn your team upside down with changes and "improvements," start small. Here are four ways to take conference lessons home, especially if your team wasn't there to learn alongside you.
Figure out what's important.
Once you return from the conference, divide the content into two categories: Good to Know (information that will help your team) and Cool Tools (sites, apps, etc…that will help you run your team better).
Review all the information you think would be beneficial to your team and divide it up based on this criteria. Highlight the items that make sense your team and the goals you have set.
Example: Let's say your team has been creating and saving flyers they have made, but there is no central place where they are all kept. If you learned about Canva at this conference, you would know that you can create teams to share documents internally as needed and save them for your records.  
Start with you.
There is so much information exchanged at conferences. Some of which would be better used for individual implementation rather than on a whole team. Look for things that you can incorporate into your own routine that might be beneficial to your systems and your team's productivity.
Example: Do you get distracted easily? Maybe you could use a Trello board to keep meeting topics in order and mark off what you and your team have accomplished to stay on target.
Teach your team.
In the week you return from the conference, add a section of the meeting to talk about the things you learned that would be beneficial to implement at the team level. This is a strategic move! While you speak, present the things you learned that solve a problem your team is facing.
Example: Have you been having an attendance issue? Use Zoom to conduct your next meeting, allowing those who cannot be there in person to call in or video conference so as to not miss important information. 
Let them pick.
Once you have laid out your content, ask this question: What problem should we solve first? By presenting in this way, you allow your team to provide input as to what problem to solve and what tool to use to do so.
Conferences can be a great introduction to more efficient and effective ways to accomplish what you already do in your work. No matter what, keep it simple. No use driving yourself crazy implementing 5 new tools when you only needed one to move your team forward.
Have you learned something at a conference that you think the world show know about? Share in the comments. Happy conferencing!