Song can be very powerful. When listening to lyrics, I found five specific songs that I would love to highlight with you today. While you are reading through the lyrics, take a moment to understand what the artist is saying. It's pretty cool to see how leadership can be taught through music. So if you don't have a leadership playlist already, make one! Then, add the following tracks.
P!NK: Try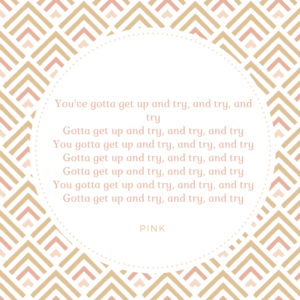 Have you ever felt like you tried and didn't succeed? Same. I have had that feeling several times. BUT, when listening to this song and hearing Pink tell me to try, try, try, tryyyyyy – I do. I don't give up. I get up and try again. It doesn't matter what the situation is. This song is inspiring me over and over to get up and try!
Pharrell: Happy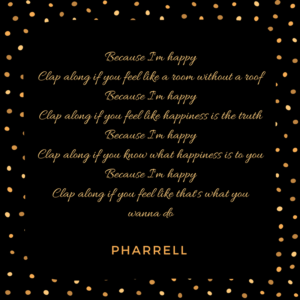 This song gets me going! When I know I did a great job with a task, I love listening to this song. It's my happy song! Sometimes at work there are so many things that go wrong. BUT, I thrive and hold on to those things that go great! Then I dance. 🙂 Pharrell gets me off my butt and out of my chair, dancing like a crazy person. He helps me get the blood flowing and to realize that no matter what, BE HAPPY!
Katy Perry: Firework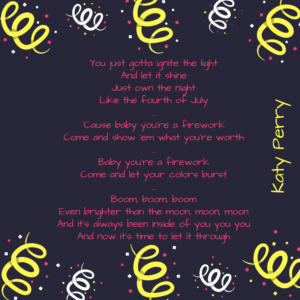 This girl is a FIREWORK! Perry's song is a great one to listen to when you need a positive boost. Because honestly you are all fireworks! Each and every one of you should listen to this song and realize how amazing you are. If you consider the "you" in this song as your leadership position, you will realize how awesome you are!
Sara Bareilles: Brave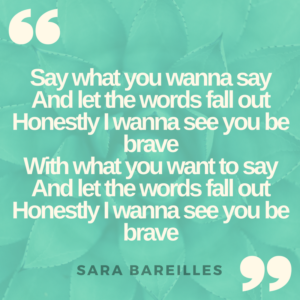 I want to see you all be brave! As leaders it is difficult to say what we want to say without hurting anyone's feelings. A lot of us try to make everyone feel great. While this is a good thing, we need to remember that people are looking up to us. Sometimes they need to hear what you have to honestly say, not what they want to hear. So, go on and let the words fall out, your team wants to see you be brave.
Natasha Bedingfield: Unwritten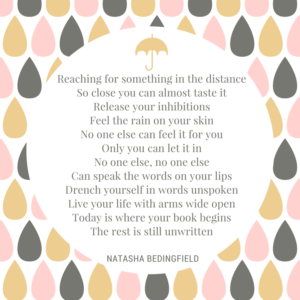 I relate to this song as a leader because it reminds us that we need to believe in ourselves. No one else can tell you how to be a leader, you need to figure that out for yourself. There is no book (well there kind of is, but that's beside the point) that tells you how to be a leader. Leadership is something that you figure out along the way.
Until next time, have a great day.
Watch how Tom Krieglstein, spent a whole day traveling across the U.S. and didn't need to talk to another human being. He told it as part of his TEDx talk at UCLA.