I was desperate. I called my mom, dad, and neighbor to ask if they could like my post. My plea for help came after posting my fourth bit of content on Slack without anyone else in the community sharing, commenting, or even liking it. It felt like I set up a dance party, invited everyone, but no one showed up. Or even worse, they all saw me at the party but chose not to join in.
It's embarrassing to check on our Slack channel and see a row of admin posts without engagement. What's worse is the more an admin posts without engagement, the less likely others are to engage because they don't want to be the only one. It's awkward, uncomfortable, and now even you want to leave.
On the flip side, it's essential to create content for your community that is engaging, informational, and interactive. But the adage that "one size fits all" does not work with engagement. Like on a dance floor, there are different levels of engagement, and each level wants to be interacted with in a different way.
As you dig into how best to engage your community, keep in mind that not everyone wants to engage in the same way. In our Dance Floor Theory (DFT) program, we have six levels of engagement within an online or in-person community.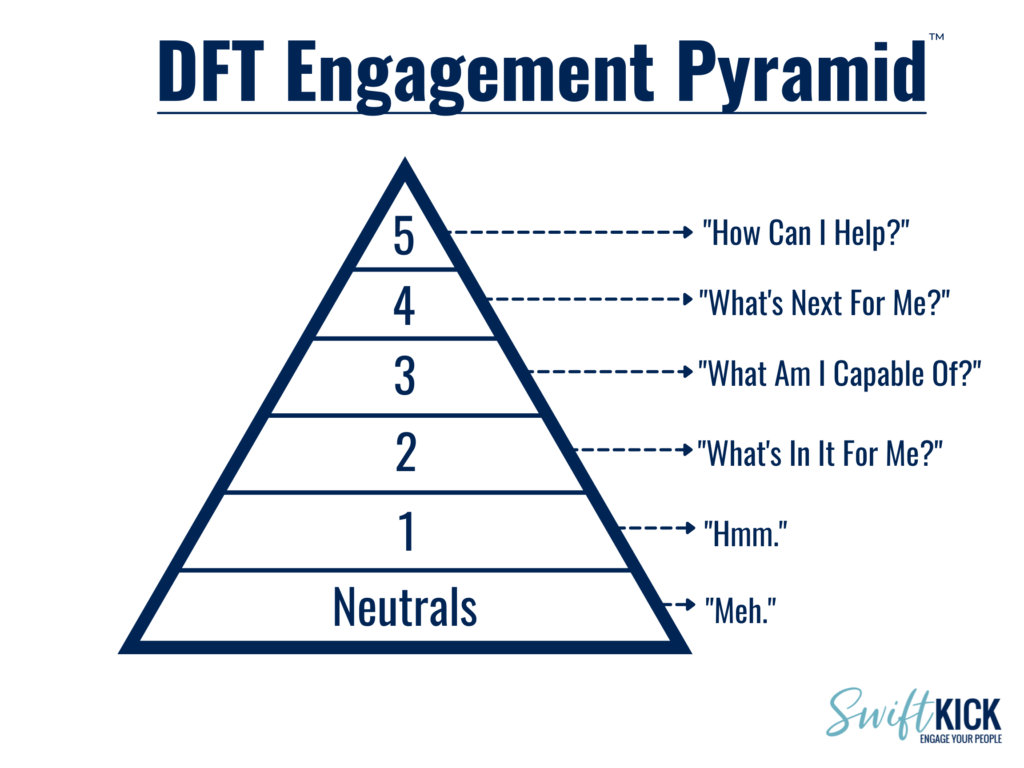 Now that you understand there are different levels of engagement within your Slack community, the goal is to create content that engages each level, realizing that the majority of your people are skewed towards the bottom of the Engagement Pyramid.
Creating Content For All
So, what type of content is suitable for each group?
Neutrals and Ones are looking for super simple, easy ways to engage:
Weekly Yes/No or multiple choice polls
Quotes to 'Like'
Facts to quickly read
Contests
Images
Two and Threes are looking for chances to engage with longer, more thoughtful, answers:
Longer polls that are open-ended
Contests
Links to relevant articles
Fours and Fives are looking for ways to lead the community by creating the content and helping others:
Links to relevant articles
Create/Suggest the polls / quotes / facts / links / contests
Interviewed to be spotlighted in the community to share their story
8 Additional Tips To Help Engage Your Community
Tip 1 – Is Slack the right platform for your community?
Through a poll or one-on-one conversations, find out what platform (e.g., Slack, GroupMe, Facebook, etc.) is best for your group. The one you are using might be the wrong one.
Tip 2 – What's the culture of your Slack channel?
Is your goal to use the slack channel strictly for business stuff, or are you ok having personal content on there as well?
Tip 3 – Create Slack rooms on your platform
It's good to have one main channel for everyone, but it might also make sense to create smaller sub rooms for your community to talk about specific topics. It's best to title these rooms in a way that's unique to your community. When you create a room, pin a conversation to the top of each room or fill out the description so your group knows how to use the room. Here are some examples of rooms from a community we run:
Watercooler – If you think back to the '90s, several fun business conversations always happened around an actual watercooler. This room is for random conversations/topics that you think would be interesting for the group. Sometimes we post stories relevant to our community, ask random questions that someone might have the answer to, or try to get the group involved by asking curious questions, etc.
Introduce yourself – This is a bit more self-explanatory; however, it is always nice to see who else is in the community and learn a few fun facts about them. We ask our community to include their name, company/position, location, and a few random fun facts in this room. Asking for location and fun facts helps build connections. There may be members in your community that are close by to one another or have the same exciting fact and BAM – instant connection.
Needs – This room is beneficial for asking more serious questions about things you need. For example, suppose our community involves CEOs. In that case, I may ask if anyone has traveled to a specific place and wanted their opinion, or I may ask about a program I am looking into using with my company and would like the opinion of our community first. You never know if someone else has personally been somewhere or used a specific platform before.
Tip 4 – Come up with different types of interactive content
Instead of posting the same kind of content repeatedly, try to mix it up. Here are a few examples to get you going:
Creating polls and contests within your community.
Curious questions – ask a question that you believe your community would like the answers to.
Announcements – save admin posts for more prominent announcements. This way, when a member sees you posted in the group chat, they are more inclined to open and answer if you're not constantly posting other items.
Articles relating to your community – posting helpful information can encourage others to open them / interact with them.
Tip 5 – Get Personal
Share posts about yourself from time to time. This will set the tone for the group. It'll also encourage others to share.
Tip 6 – Welcome New Members
When a new member enters your community, reach out to them with a direct message. Answer any questions they have and connect with them on a personal level. Then, help them introduce themselves to the whole group with a public post.
Tip 7 – Celebrate birthdays
Each person's birthday is special to them, so make it a point to create some sort of celebration for them in the community. Take the time to create a fun birthday post from Canva and share it with the group. Make that member feel special for the day.
Tip 8 – Have a street team to increase your likes and comments
Do you have an executive team that is a part of your community? If you aren't seeing much action on a post, reach out to them and ask them to like and comment. Sometimes your community might be nervous about being the first to answer. The efforts of your street team will give your regular members a little push to increase engagement.
Some might think that building a community or increasing engagement will happen naturally on Slack. But the reality is with any tool you use; you will still have to put in extra time and effort to get things going and then keep them going. So next time you are trying to engage with your community on a social platform, hopefully, the tips from this post will give you a better sense of hope so you don't have to call your mom for help.