BLENDER DIRECTORY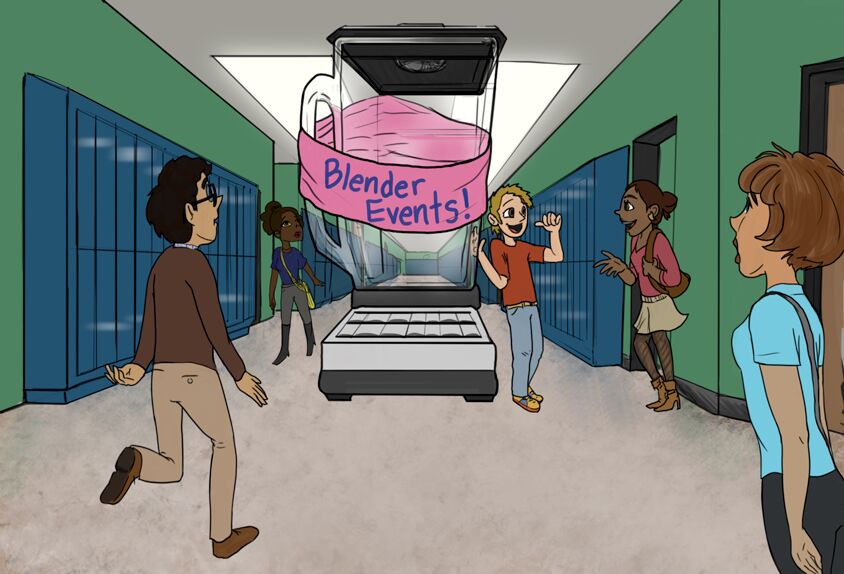 What is a "blender event"? 
Blender Events (B.Es.) are simple, low cost activities that create pattern interrupts and/or build relationships to increase a sense of community within a culture.
Are there rules?
There are four basic rules that guide all Blender Events:
Bring It To Them – B.Es. work best when they are done in busy areas on campus
Positive Reaction – Use B.Es. that foster positive emotions (make them smile).
Connect The Dots – B.Es. should be used in between your bigger events.
It's Cheap – B.Es. should never cost a lot of money.
A-Z LIST
>>> Chalk Maze
Much like the hopscotch, draw lines all over a sidewalk in a maze formation.
Have students attempt at getting through your giant maze
>>> Encouraging note balloons
Have students write encouraging notes

Put them inside of balloons and blow them up

Have student choose a balloon later on in the day

Let them pop them to get their note
>>> First day of school: red carpet and photographer
>>> Game Zone
Set up games in a lounge or open area
Games can include things like Rock, Paper, Scissors, board games, twister etc
>>> Giant hopscotch
Draw squares all along a known sidewalk on campus, just like hopscotch
Have students jump through the hopscotch on their way to class
Set up a table at the end with treats for completing it
>>> Hand out popsicles for finals week
>>> Hand Print Wall
Set up a large piece of paper and paper plates with paint
Have people dip their hands in the paint, leave a print and sign their name
Hang up the paper when dry in a popular place on campus
>>> Inspirational quotes in library books
Write a bunch of quotes down and hide them in different books in the library
>>> Lava Ground
Set up furniture and encourage people to try not touching the floor
>>> A Love Letter to the World
Start with a few pieces of paper, and write the instructions on top in colorful markers
Write what was positive about your day below
Fold the paper and put it in an envelope
Choose a person to pass it on to and let the world see all the positive things!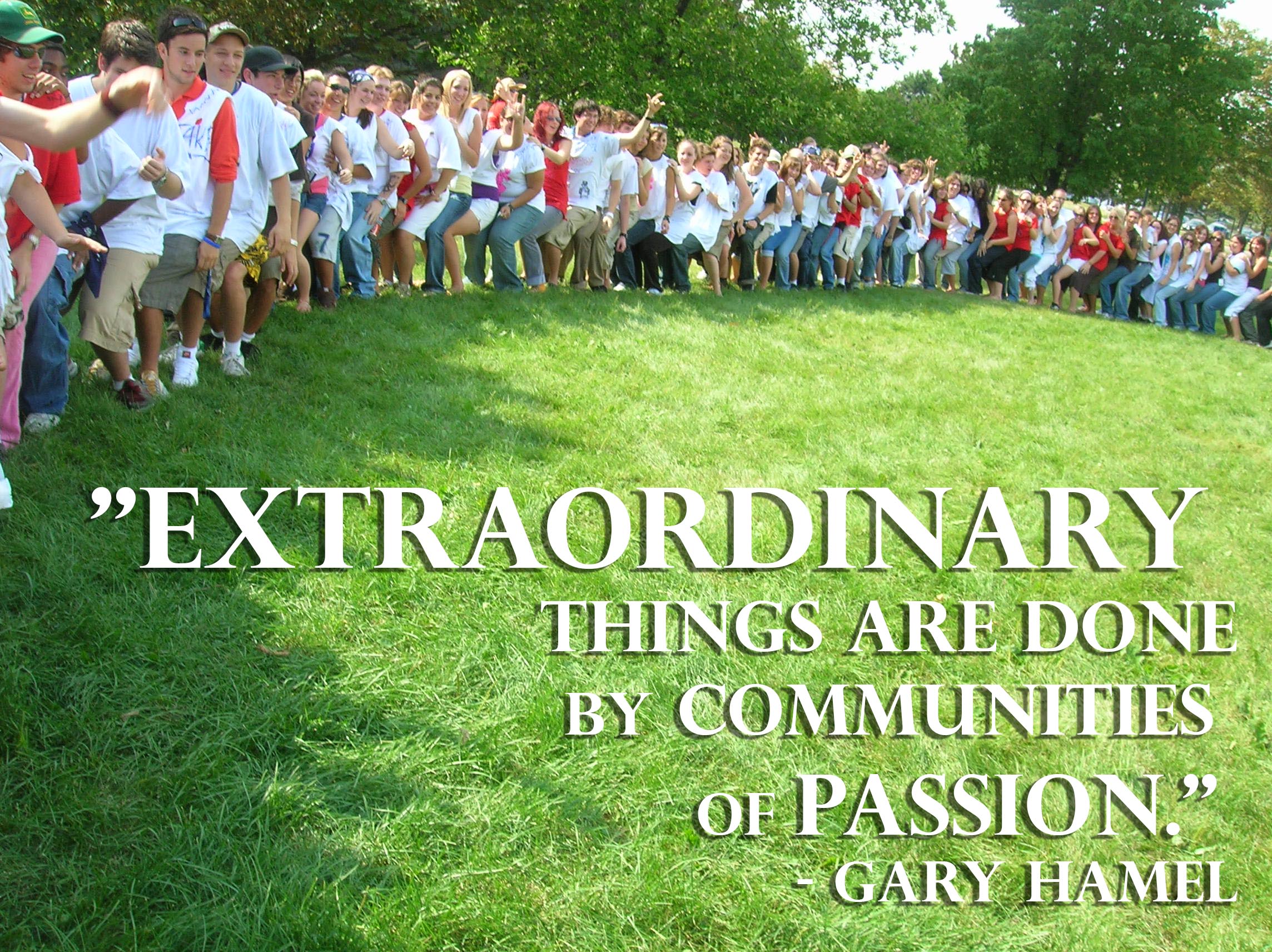 >>> Music in the elevators
Bring a small stereo and a bowl of treats and stand in the elevator
Ride the elevator with the students and offer treats and good music
(Check with the school's handbook for rules and guidelines)
>>> Note Balloons
Buy a bunch of balloons
Tell students to write their biggest worry or goal for college and fold it up
Have them put the note in the balloons and blow them up
Release out in an open space
>>> Picture Wall
Buy a disposable camera
Allow students to take the camera, take photos and pass it around school, but keep a place for it to be returned every night
When the camera is full, develop the photos and add them to a photo wall
>>> Reverse trick or treat
This will work best in a dorm. Buy some candy.
Have a student knock on doors and hand out candy
>>> Rules to Walk the Hall
You must run/jump/skip/dance the hallway (you can set up a sign in the middle of the hall to explain the rules)
>>> Secret Handshake
Find a stranger (or set up pairs during an event).
Have them create a secret handshake.
Challenge them to use the secret handshake anytime they see each other on campus.
>>> Simon Says
Get a speaker and a microphone
Have students gather around the person on the mic
Play Simon Says and have people be accountable for the people around them
Let students come up and play Simon themselves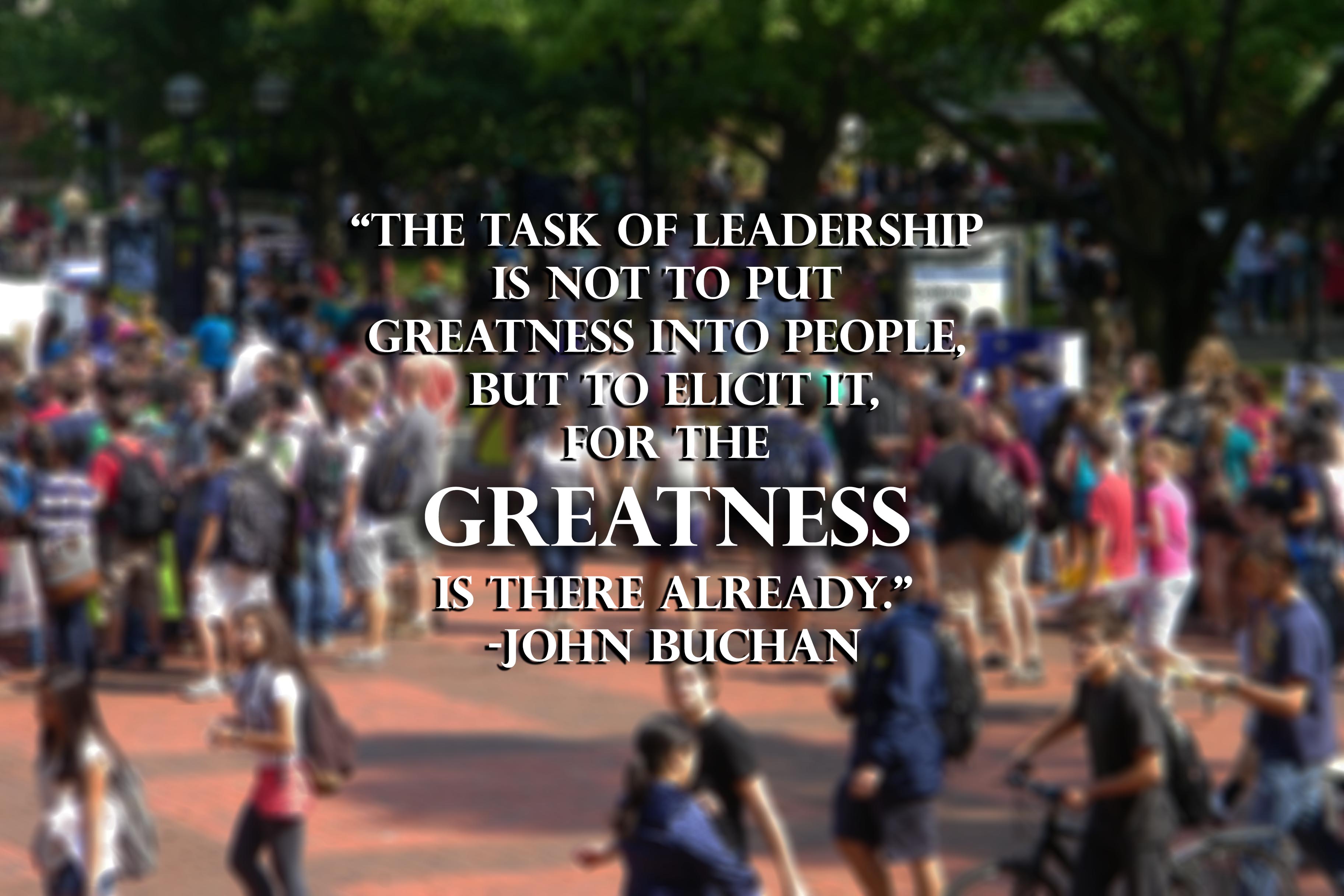 >>> "Sit with us" signs for cafeteria
>>> Surprise clapping when people walk by
>>> Teacher vs student activities
This could be anything: Dodgeball, capture the flag, minute to win it games etc
>>> Ticket lunch
Buy colored tickets
Have someone stand in the doorway of the cafeteria
Hand students the ticket and ask them to buy their food and sit with those that have the same color
>>> Timeline wall
Create a wall space where people can use tape or push pins (be careful about putting holes in walls)
Tell people to put positive things on the wall- good grades, photos of them with friends, memorabilia of sport events they went to or anything like that
>>> Water Balloon fight on campus
>>> "What's one thing you'd change about the world?"
Put a large piece of paper up and write the question on the top in big letters
Hand out markers and pens so everyone can write their answer
Hang the paper in a popular place on campus
>>> Where's Waldo/Selfie with Waldo
Have someone dress up as Waldo and roam around campus taking photos with people who find the person

Have them go to popular places and try and blend in as much as possible to make it a little harder
>>> White t-shirt graffiti night
Everyone wears white t-shirts
Have options for coloring the shirt (markers, spray paint etc)
>>> iSpy
Find something small, like a stuffed animal mascot for your school, or something similar

Hide it in a weird place (in a cabinet, next to the printer etc)

Tell students to find it, take a photo and post it on social media

The student should then hide the object again
---
Check out some of our blog posts about blender events here