Oh my gosh, you're the absolute best, this is the greatest gift, let alone tote bag, I have ever received!
-Totally what your best friend will say when you buy them the 'Humans Need Humans' canvas tote bag
---
The holidays are right around the corner so check out our Swift Kick store for that hard to shop for person on your list. You know the one, the "I don't care what you get me as long as it's money" type.
Before you simply hand over the cash, check out the unique "Humans Need Humans" design on our new tote bag and all of the reasons to get one…or ten!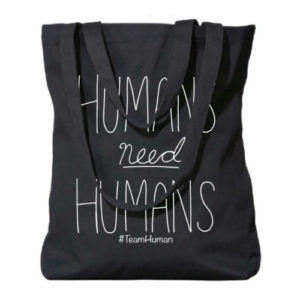 Reason #1: It's true!
Humans Need Humans. To be nice, to be funny, to be welcoming, to be awesome; simply, we need each other.
Reason #2: It's in!
The canvas tote bag is all the rage right now. (Do the kids still talk like that?) Plus, everyone loves a new bag.
Reason #3: It's convenient!
Not only is our new bag convenient for every day use (with a really awesome message) but if you want matching bags for you and your crew, there's a buy-in-bulk discount!
Need something to put in the bag? If your gift-getter is going to college soon, check out the First Year Student to First Year Success book!
No matter what gifts you buy or receive this holiday season, remember to be kind to one another, all year round. #HumansNeedHumans #TeamHuman
This has been a shameless plug, brought to you by Melissa Ruiz and SK Team.