Res Life at KU – where my journey began
College is where we find ourselves and discover what we want to do in life
When entering Kutztown, I decided I wanted to be a Special Education Teacher. After the first year and going into my sophomore year, I switched to Communication and eventually picked up a Public Relations and Professional Writing Minor. Along with changing my major, I decided to join Housing and Residence Life at Kutztown University. Just a few short months after obtaining this job, I knew this is what I wanted to do for the rest of my life. For the past four years I have been a part of Housing and have worked with college students.
Becoming a Resident Director is what I saw myself doing in the future
Helping students figure out where they want to go in life has become my passion. Just seeing the looks on everyone's face who I have helped in the past is what brings me joy. Once graduation hit, I was terrified because I wasn't exactly sure what I was going to do after.
Over the summer, I found a few jobs that helped pay the bills and put a smile on my face. I started out as an Ambassador at Dorney Park, then received an Internship with Swift Kick. Finally, I decided to apply for graduate school and become a test proctor at the disables center at Kutztown University. My life was set for a few years. I was happy and loved all of my jobs. Suddenly, Dr. Kenney who is my advisor and professor, called me saying that there was an opening at Cedar Crest College for a Hall Director position. I was ecstatic. Dr. Kenney thought of me, and thought that I was a great fit for this position! I thanked her and sent my resume to Kelly Steinmetz immediately.
Long story short, I did my interview, loved the college, was accepted into the position, and now I am a Graduate from Hall Director here at Cedar Crest College alongside of one of my good friends Lisa Turtle. I couldn't be happier. Everything I have done in the past, including all of the organizations, clubs, jobs, volunteer opportunities, was for this moment. I finally have the job that I have wanted for so many years now. I am here helping students every day as a hall director, AND I GET PAID FOR IT!!!!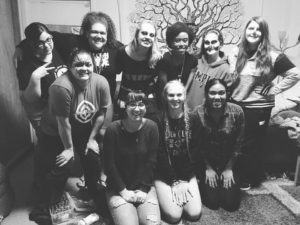 The RA's that welcomed me to the Cedar Crest Family
Lesson time:
There have been several challenges and obstacles that I faced while on this journey. The biggest lesson I learned was that I had to believe in myself. I had to know that I could do anything I wanted as long as I worked hard for it and never gave up. There had been numerous jobs that turned down my application and did not want me. I didn't take this as a failure, I took this as an opportunity to find a better job. Clearly, if they didn't want me, then that wouldn't have been a good fit.  Through all the offers that I either declined or just wasn't accepted to, I am thankful. I have the job that I have wanted for years right in my hands now as a hall director, and I am forever grateful for that.
My challenge to you:
Go out and do your best. You don't have to succeed at everything, remember, a failure is just a stepping stone to where you will succeed one day. Don't give up, continue the journey to your dream and one day, you will succeed.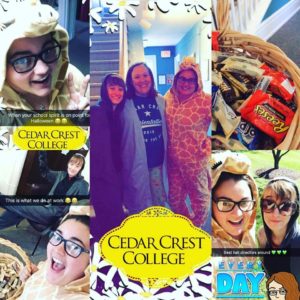 Lisa, Kelly and I celebrating Halloween at Cedar Crest!
**Special shout out to Lisa, Kelly, Fran and the Burtis RA's for welcoming me to the Cedar Crest Family and making the transition that much easier. Also, Shout out to Casey, Max, CP, Des, Steph, Alex, Matt, Claire, and any other KU individual for believing in me and for helping me become who I am through the past 5 years at KU. Lastly, Shout out to my family. Mom, Dad, Scott, Zach, Paige, Steven, Grammy, Mom-mom, both Pop-pops, my aunts, uncles, cousins; you all supported me throughout this journey and I am forever grateful for that. Thank you.