ONCE UPON A TIME
After a failed first attempt at creating his own leadership training company right out of college, Tom Krieglstein knew he needed training on how to be a great facilitator and speaker, which led him to discover Quantum Learning Network, and apply. At the same time, Kevin Prentiss sold out of his software company to do more meaningful work, and through a Google search discovered QLN as well, and applied. Best described as entrepreneurial love at first sight, Tom and Kevin were instantly deep in conversation about what was wrong with the way communities, such as colleges and corporations, were engaging their people.
It only took 16 rounds of brainstorming, and a few rounds of drinks, for Tom and Kevin to finally settle on the name, Swift Kick, to match their vision of a world in which everyone reaches their highest potential by connecting into a community of positive growth. After a quick celebration, they moved on to the hard work of piecing together their first leadership training program to match their ambition.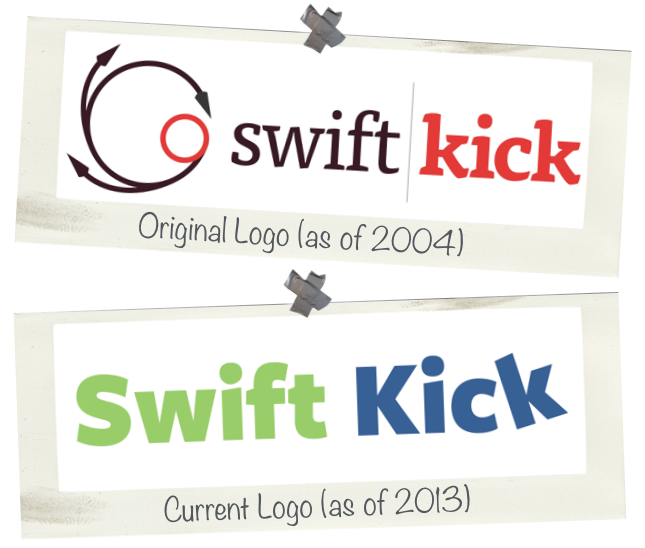 Kevin originally began thinking about the idea of dance floors while doing business networking in New York City for his prior software company. Kevin noticed that every dance floor involved different levels of engagement and certain individuals were able to leverage the social dynamics of the crowd to elevate the entire energy of the room, leading to a dance that was more fun and lasted longer for everyone.
With Tom's background in leadership, the two started to find multiple similarities between how dance floors and any type of community operated, with team leaders in the center and dis-engaged members at the edge. Through their discoveries, their first leadership training was created, titled Dance Floor Theory.
Since 2004, Swift Kick has expended its leadership trainings to over 30 hours of content and has won five national leadership speaking awards. Over 550 partners and 227,000 leaders have experienced a Swift Kick training as a proven model for creating community, increasing member engagement, & fostering a culture of retention.
Though the Swift Kick team has evolved and changed over the years, their dedication to the vision, mission, and core values continue to remain as strong as ever. One day, everyone will be plugged into a positive community where they feel welcomed, connected, and engaged.