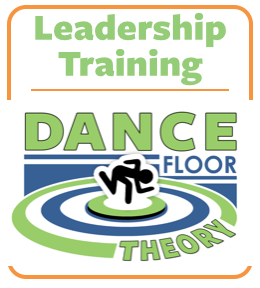 Just like on a dance floor, every school experiences varying levels of student engagement between those fully involved (student leaders) and those lurking on the edge (apathetic students). The same tactics to create successful social change on a dance floor – connections, relevancy, models of success, and motivation – also work to increase engagement within any school. DFT provides student leaders a new model for creating community, increasing student engagement, and fostering a culture of retention.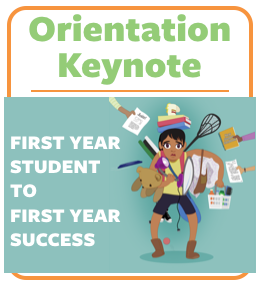 People in the center of a dance have all the fun, meet all the people & experience the best dancing. The same is true for school. The more involved one is on campus, the more fun they'll have, the more people they'll meet, and the more dancing success they'll have. In this highly engaging and fun keynote, students gain an immediate understanding and desire to get more involved on campus and take advantage of the opportunities a school offers beyond the classroom. Dust off your dance shoes & report to the dance floor!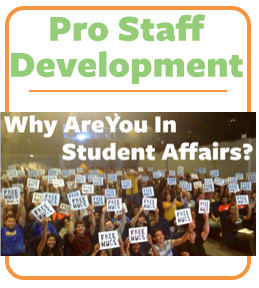 As part of our mission to help students reach higher levels of success, we know that helping the professional staff do the same is just as important. Through trainings and keynotes created for professionals, we help Student Affairs Professionals develop higher levels of motivation and proficiency. From keynotes at conferences such as ACUI, NASPA and APCA, to on campus trainings for the entire office on team building, vision setting and strategic planning, we have the perfect training for your next event.

Recruiting & Retaining Group Members & Officers
Running Effective Meetings
Strategic Planning for Your Team
Who's Really on Your Team? Better Leadership Through Personality Profiling
The Power of Goal Setting to Breaking Through Barriers
5 Tricks To Unlocking Your Team's Creative Genius
How To Communicate With Crappy People
Passing The Torch – Effective Club Officer Transition
Breaking The Ice on Ice Breakers
Turning Faces into Friends to Grow Your Network
How To Manage Your State While Walking on Fire
Event Planning on the Cheap
Creating the Perfect Leadership Retreat
6 Secrets to Successfully Fundraise Using Social Media
Leveraging Social Media to Score your Dream Job
5 Secrets to Creating the Perfect Environment for Your Student Event
Leveraging Social Media for Increased Student Engagement
The Art Of Cat Herding…How To Be A Great Org Advisor
Surviving the Dreaded Student Affairs Burnout Factor