WOW, the day isn't even over and so many of you have given out so many hugs already!
Over the weekend, we will be posting the official numbers, so stay tuned for that. In the meantime, we noticed some crazy cool trends being posted to social media.
1. Administrators and faculty getting involved
Sherrod Williams Director, Student Leadership and Community Engagement  at UMass Boston isn't big on the hugging,  but he pledged 10 and counted each down on Twitter with a picture or vine. Here's his 10th!

We also have these awesome students connecting with school administrators: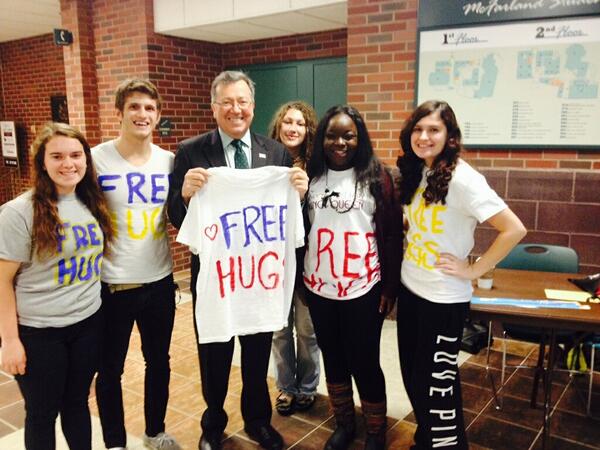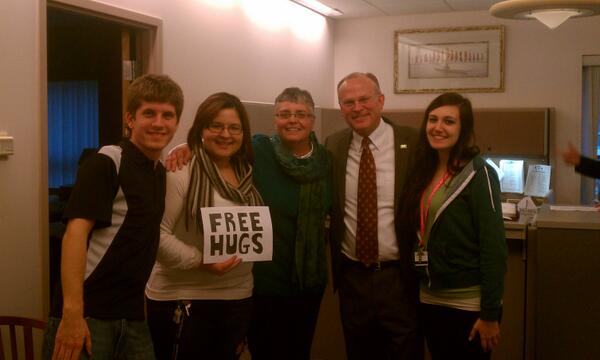 These are great because it is important for Student Affairs Pros and administrators to be able to have a friendly and open relationship with students. Free Hugs are for everyone!
2. Hug your mascot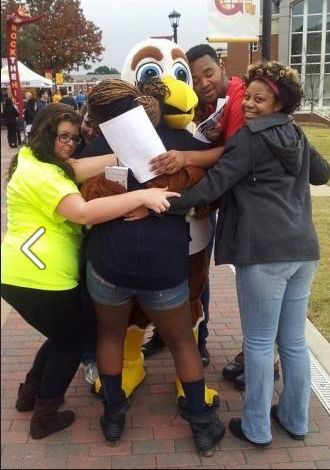 3. Random students who were overjoyed to come across #FreeHuggers
Ok, this wasn't really unexpected, we knew you would make a lot of people's day all along. 😉  Talk about going from "meh to hmm…"
They are really doing free hugs by the fountain. I freaking love that.

— 🎲✞♪Jeffery Dice ♪✞🎲 (@JDice15) November 7, 2013
Free hugs on campus? I love my school.

— Rebekah Cross (@Rebekah1395) November 7, 2013
Someone just knocked on my door with a free hugs poster, have I mentioned that I love life #lol

— Vanessa Horgan (@VanessaHorgan) November 7, 2013
Check back this weekend for more #freehugs updates and keep sharing with us!