My day began at 5 am to the sound of Wake Me Up When September Ends by Green Day; I had a nice hot cup of pumpkin spice latte and a lovely two-hour drive towards the Poconos. Though the early morning commute made me tired, that quickly changed once I walked into the room where we were doing our training. The energy of the group was contagious and gave me an instant jolt of adrenalin.  
What made this program particularly special was that many of the 50 physical therapists (PTs) in attendance hadn't seen each other in person since 2019. Throughout the day, the group had many in-depth conversations, worked through problems as a team, and even became quasi musicians by creating their own theme song that went, "get up, get up, get up and shake your napkin." It was wonderful to watch this group be so highly engaged throughout the day. Their connection to each other was a true sign of the community culture they had within their organization.
Feeding off of their strong sense of community, we ran them through an Appreciative Inquiry activity where the group was challenged to come up with eight attributes that described their company when they were at their best. Through this process, you can see the final eight attributes, with corresponding actions to make sure the company is living and breathing each attribute. The end result of this process is them becoming what we call a Level-5 Team.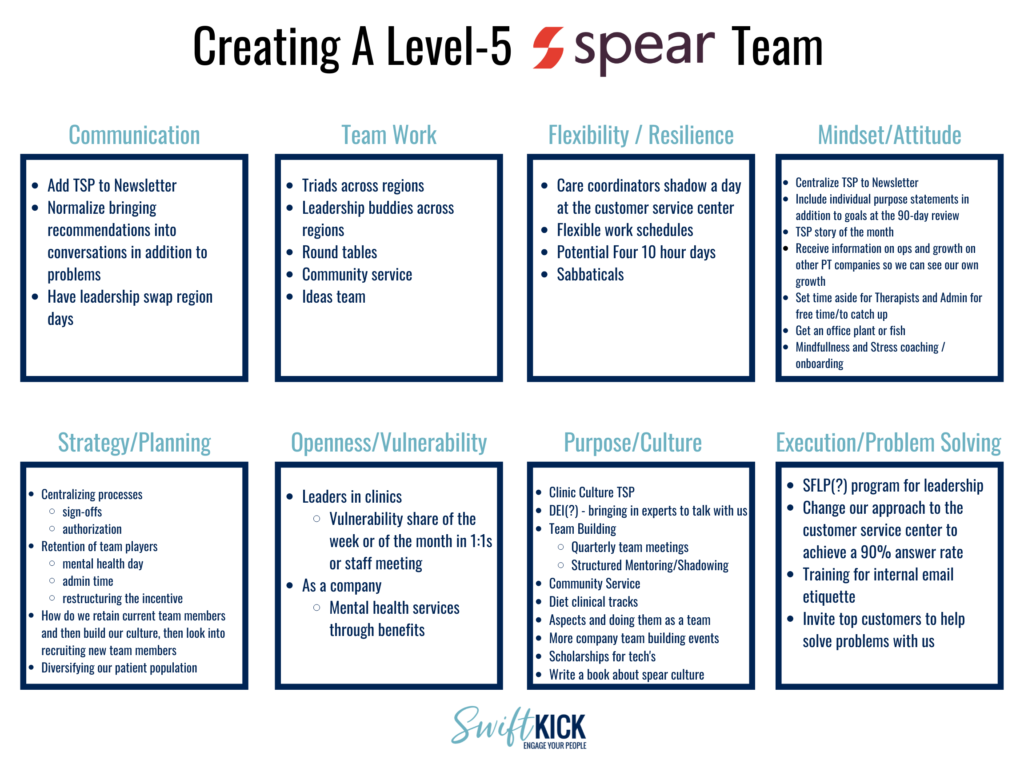 After seven hours of being together, the group was so deeply connected and highly motivated that many didn't want to leave. But with all good things, our time with them had to come to an end.
Every team can become a Level-5 Team, but most don't know-how. When's the last time you worked with your team to come up with the top attributes that would make your team Level-5? The process might take a while, but the end results will massively increase productivity, retention, and profitability.