Meet Addison Mallery!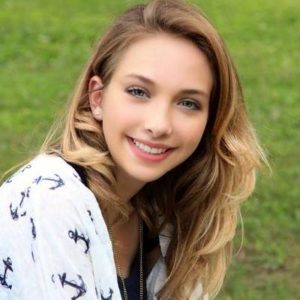 HI! My name is Addy Mallery, and I am a 19 year old sophomore student studying at Allegany College of Maryland.  I am currently in the early childhood education program, and will be graduating with my associates' degree next spring. I will then be transferring to Frostburg State to get my Bachelors and hopefully one day becoming a kindergarten teacher!
Q&A with Addison
Q: Do you have a job? If so, what do you do?
A: I am an office Manager of Kick Masters Karate (KMK) in Frostburg MD. The jobs that I have had here helped me pursue my passion of spreading the word about anti-bullying. KMK's mission is to strive to build leaders. Part of this mission is making people aware of bullying and how to prevent it. As a studio, we partner with other businesses and put on the largest anti bullying event in the area.  Last year, we had over 500 children come to our event and learn about bullying. This year is our 5th annual Bully Prevention and Youth Empowerment Day. We will be hosting this event on Saturday November 12th.
Q: What are you involved in at Allegany?
A: I am an Ambassador for the campus and Vice President of Phi Theta Kappa National Honor Society.
Q: How would you describe the anti-bullying campaign?
A: The national day to stomp out bullying is National Blue Shirt day. Our event was held on Monday, October 3rd 2016. We wanted to make others aware that bullying is happening all around us, even as college students. We started at 8 a.m. and stayed at our table until 4 p.m. There were free cookies, we played a movie, handed out free information packets, and much more. The main point of our campaign was for people to sign a pledge against bullying. The pledge we used was The Stand for the Silent Pledge which says:
"From this day forward, I promise to respect those around me as well as myself. I am somebody, and I can make a difference. I can make another feel loved. I can be the helping hand that leads another back to a path of hope and aspiration. I will not stand silent as others try to spread hatred through my community. Instead, I pledge to lift up these victims, and show them that their life matters. I will be the change, because I am somebody."
We had over 185 students sign the pledge to stop bullying. Because our campus is so small, this was a huge success for us. Our goal was 50 signatures. For those who signed the pledge, we had bracelets we were handing out that said, "I am stronger" on one side and, "ACM stands up" on the other side as a constant reminder of that they signed. Lastly, at the end of the day, we released balloons in memory of all those who took their lives due to bullying.

Q: What challenges did you have to face with the campaign?
A: I was extremely lucky to have support from the staff on my campus, my boss, my friends, and my family. They have all helped me raise money to buy the supplies needed for the campaign, helped me put it together, and so much more. The main challenge I had was people not believing that bullying actually happened on campus. They thought they were too old to have bullies. Not only is bullying in college and the work place, but our students may have siblings who deal with bullying as well. When we discussed the statistics with students, you could see it on their faces that they had no idea that this was happening. Lastly, another challenge I personally had was overcoming my fear of making my story public and letting others know what I went through.
Q: What inspired you to do this amazing campaign?
A: My own story impacted me. I believe I am a survivor, not a victim, and that means I can use my story to help others.  I went to a private school since kindergarten and really enjoyed it. But when I started middle school,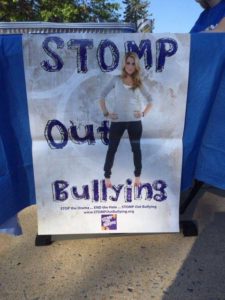 things started to change for me.  I began to be the target of relentless bullying. It started with simple name calling, and then slowly became worse and worse. I kept it silent for years but soon it became too much. Freshman year was when it finally reached the point where I could not take it anymore.
It was not just mental abuse; it became physical abuse as well.
Gossip went around the school that I was a sl*t and pregnant.  At lunchtime, no one would sit by me. It made me feel like I had some disease and was contagious. People would trip me, which caused me to lose my lunch. It came to the point where I wouldn't go over for lunch. I would find a reason to stay with a teacher and do homework. When it was gym time, they would hide my clothes, and laugh as I could not find them. I would also have no books in my locker and find them randomly throughout the hall. Where I found my books once, there had been notes telling me the world would be better without me.
I went to a basketball sleepover with my team, thinking I would be safe because they were my teammates.
I was wrong.
It started out just fine, and then it started to happen. It first started with them jokingly knocking me down, and asking me if I was really was pregnant.  They told me we were going to have a spa time and do facials, so they went and got stuff. It was my turn, I closed my eyes and had no clue what they were putting on my face. But I started to hear people giggle when I opened my eyes, they were all videoing me as they put canned cat food on my face.
After that, they started to throw things at me, and tell me how much everyone hated me. I decided it was time for me to go to bed, but, the girls had other ideas in mind. They tried to pull off my pants. I knew it was about to get worse, and it was time I called my mother to let her know I needed a ride home.
That was the final straw for me, I started to believe what people said.
I thought "maybe I do look pregnant" so I took things in my own hand and stopped eating. I loved having control of something. Quickly, I became very unhealthy, and my family started noticing what was happening. I began to slowly reveal what I had been going through. Soon, I became more and more depressed and became suicidal. At one point, I ended up hospitalized until I got the help I required.
I could go on and on of the stories of what happened to me but, needless to say, I was bullied. Freshman year I ended up finishing school at home and then transferred to a new school. I went to Mountain Ridge, a public school in Maryland. I was so scared I would be bullied again. Thankfully, I was wrong. It was an amazing experience!
I finally could tell more people about what I went through.
My senior year, I wrote a paper about bullying, and parts of my own story. Proud of my accomplishment, I posted it on Facebook.  I had no clue what that post would cause. I did not mention any names in the paper, but students from my old school started commenting on how awful I was and that I was never bullied, that I made it all up. Soon, comment after comment started showing up, and it then lead to threats on my life. I began to get very depressed again and wanted to go back to my anorexic ways. Then, I saw a girl's post about wanting to end her own life due to bullying. That is when I knew I couldn't stop telling my story because of what others said. I had to share it with the world because I am not alone.
Q: What would you say is a positive impact that came out of this?
A: Even though it all my sound terrible, and it was at the time, it has shaped me into the person that I am today. I now see things much differently and watch how I treat others. Because of this, I am passionate about teaching. This negative situation showed me what I want to do with my life. I have also used my story to help others who could not hold on anymore. I was able to reach out to one young girl who felt she had no one. She thought it was time to end her life. Even if that is the one and only person's life I touch, I am thankful I went through what I did to be able to save one amazing person who should never leave this earth this early in life.
Now, I am trying to find more ways to get the word out and use my story to help as many as possible.
Q: Here at Swift Kick, we always like to ask a fun question: If you could be any appliance in a kitchen, what would you be and why?
A: I would want to be a can opener. I wouldn't be some huge, expensive item. Many may even forget about me, but I would come in handy when someone needed a little extra help getting into something. I could help solve problems and open things that may seem impossible, even if I just give the start to assisting, it could help someone finish the job!
Q: What advice, if any, would you want to give to our readers?
A: I would tell them to not let what others say about you change who you are. What others say of you means less then what you say of others! It is hard to not let things get to you, but use them to better yourself. People are like sandpaper. Some will rub you the wrong way, but it will mold you into an amazing human being. You are loved!
I wanted to personally thank Addison for taking the time to Interview with us. Addison – You are an amazing person and you are doing amazing things with your life. Keep up the great work and keep shining like the star that you are. You have changed lives already, here is to changing many more! 
Until next time, have an amazing day!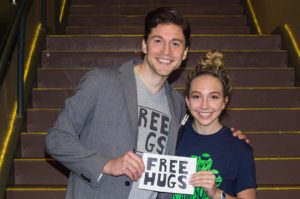 Addison and Tom supporting FREE HUGS