Last Monday, Jason Ritter (the son of the late Josh Ritter) went on The View to promote his show while also trying to break a Guinness World Record for most number of hugs by one person in one minute. He got 86 hugs.
The prior record of 79 hugs was set on March 5th 2016 by Krishna Kumar.
For those of you who have followed our story here at Swift Kick, you should remember that last year during our the 2016 Free Hugs Day, I traveled to College of DuPage in Illinois to attempt to break the same record.
In the end, I unofficially reached 100 hugs. We are just waiting for final confirmation from Guinness to give us the official count.
As we round towards the 2017 Free Hugs Day on Nov 2nd, I'm challenging your group to join me and Jason Ritter in attempting to break a Guinness World Record. Interested? Well, here are the steps:
1) Visit the official Guinness World Record site and set up an account.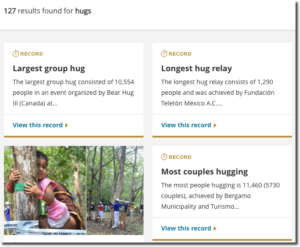 2) Do a search for hugging records and pick one you think is doable for your group.
3) Review all the requirements for the record. There are a lot of requirements such as what constitutes a real hug, so make sure you read through everything in detail.
4) On the Guinness site, submit your desire to break a record.
5) Build the hype. Invite as many people as needed to help you in breaking the record. Invite the local paper or TV station to be a part of the record-breaking attempt.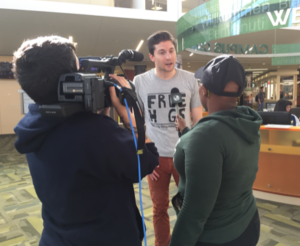 6) Practice and prep with your group ahead of time.
7) Give it everything you have!
Breaking a Guinness World Record isn't very easy, but it's well worth the satisfaction afterwards. It can also act to become a very positive bonding activity for your group. The upcoming 2017 Free Hugs Day on Nov 2nd is a perfect excuse to warm up your arms, gather a crowd, and break a record!