With summer finally here, the Swift Kick team's retreat was aptly themed "Tropical Ocean Getaway." With a theme like that our key goals were to give everyone that island relaxed and tropical vibe all day and keep stress and tension down.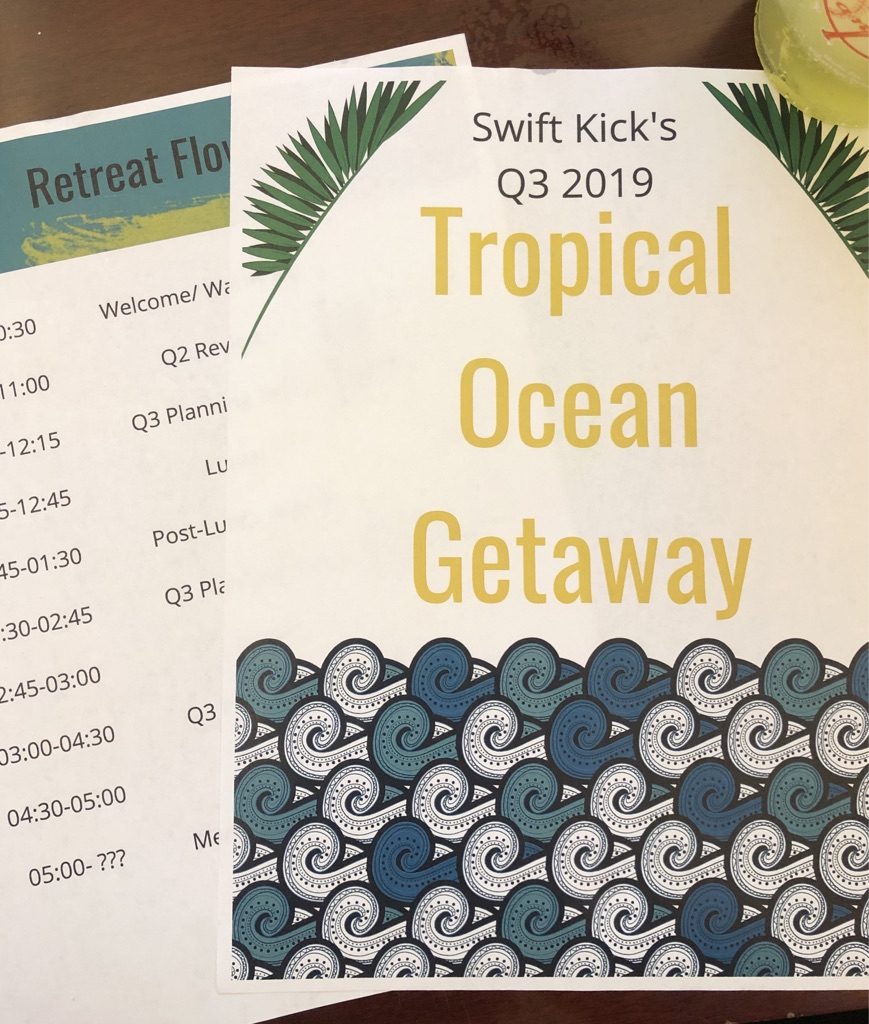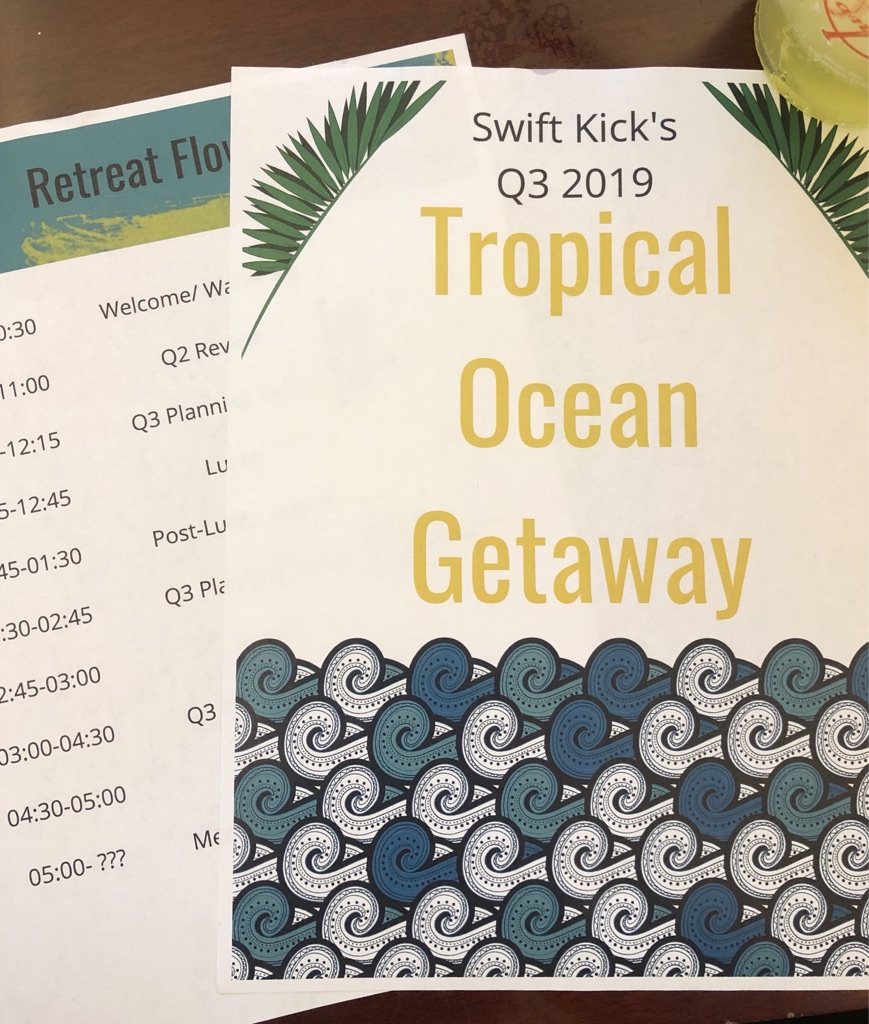 "The sea, once it casts its spell, holds one in its net with wonder forever."

-Jacques Cousteau
This retreat was different for the team because we went to a different office space. We felt refreshed at this new location, since a change of scenery increases productivity, revives the mind and allows for more retention.
Here are some tips to planning an ocean getaway in a concrete jungle.
Begin the day "at the beach"
Before digging into work, we played a fun improv memory game called "I'm going to the beach and I am bringing…" to wake up everyone's senses and memories! Here is a link to learn more about the game.
Eat tropical food
As we walked in, Sabina surprised each of us a pineapple Coolatta drink from Dunkin Donuts. So refreshing on a very hot day!
It was challenging to stay on theme for lunch due to tastes and dietary restrictions. We ordered from Playa Bowl, a chain restaurant that makes smoothie bowls with fun and exotic ingredients. It was delicious and on theme, but extra snacks were needed to sustain us for a full day.
Dinner was a piece of cake. There is a delightful spot called Victor's Cuban Cafe in midtown Manhattan. It had the right vibe inside, tropical drinks and food options for the whole group to enjoy.
Journey Into the Ocean
Once our hard work planning the quarter was done, we participated in National Geographic's Ocean Odyssey and got up close and personal with some ocean wildlife. The interactive experience was an all-digital, sometimes 3-D experience. It was fun for the whole group to get to "see" wildlife without the risks that come with putting real animals in captivity. We learned a lot of cool statistics and facts. Did you know that there are over 1,500 sea creatures that use bio-luminescence for various reasons? Another favorite part of the experience was the "kelp maze." Mirrors and fake kelp were at every turn, and we all had a lot of laughs trying to find the actual path through!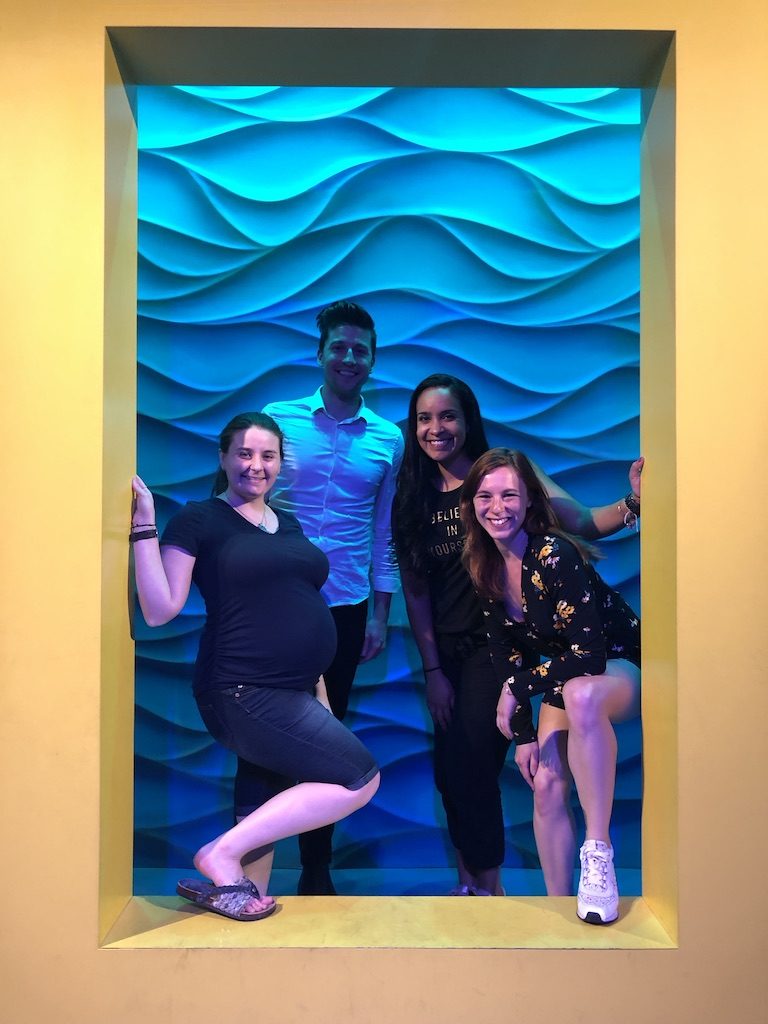 Overall, this Tropical Ocean Getaway theme was highly enjoyable and kept the team calm and relaxed for the whole day! We even finished all our work ahead of schedule to make more time for the fun.
Want to know more about the work aspects of what retreat day looks like? Sabina recently wrote a post to help you run your own quarterly retreat. Check it out.