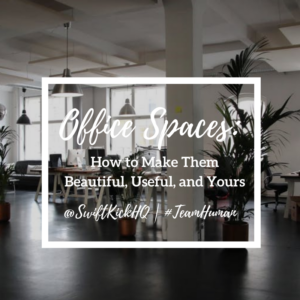 06 Jul

Office Spaces: How to Make Them Beautiful, Useful, and Yours

My school recently opened a new building, and one of my clubs was lucky enough to receive an area to call our own that we previously never had. While reconfiguring the space to suit our needs for the upcoming school year, I thought of how important it is for areas to be utilized to their full potential. Whenever you're looking at offices to rent, it is vital to make sure that you can make good use of all of the space available to you. I pondered the ways in which students could accomplish that task. If you, your club, or your organization is lucky enough to have office space on campus, here are some ways to best decorate and utilize your areas!
Personalize your office space
To me, the best decorations are the most meaningful ones. Personalization is one meaningful way you can decorate. Make sure you start decorating with your door. Mark the door with your name, your club's name, or your members' names. Have fun with this! Create unique door tags or have people make their own customized name tags at one of your meetings. When you give people the opportunity to claim an office as partly their own, you take a step to building a strong community.
Once the door is decorated, make sure the inside is personalized, too. Have photos of your group printed on canvases, and hang them up on the walls. Print other photos of your members and hang them in colorful picture frames throughout the office. Make a banner with your name on it and display it within your office. Be creative! Pictures and canvases also make great gifts for outgoing seniors who have led your club or been outstanding members.
Celebrate your accomplishments
Soak in your brilliance by showing off your achievements in your office. Most people hang their degrees in their personal offices–follow their lead! You earned your degrees, and they deserve to be shown off.
If your space is shared or a club space, hang up any awards or recognitions your club or your members receive. This is a great way to set a precedent of excellence within your club. It shows new members that you are committed to great programming. It also gives members pride in their commitment to your club throughout their time at your university.
Set your office's purpose
Is your office for getting work done, or does it exist as a relaxation space for your or your club members? Is it a mixture of both? Do you want it to be a traditional space or do you want modern office furniture? It could even be something else entirely. Why does your area exist, and what can people do there?
Set a purpose for your room and make it clear to everyone who enters the space. Doing this will help you avoid having hidden expectations. It will also help your members avoid confusion, and everyone avoid miscommunication. Setting your office's purpose doesn't necessarily mean writing anything down or printing anything out. It can be as simple as letting students or club members know what your expectations are at the beginning of their time in your space.
Make your office multi-functional
If your office does have multiple purposes, separate it into different areas to fulfill your or your members' different needs. Depending on the amount of space you have, you could give yourself room to work, room to hangout, and room to have discussions with multiple people at once. Furniture can act as walls or barriers between spaces.
Before separating your office into sections, make sure you have a vision of what you want the different areas to look like! This will make it easier for you to start moving furniture and decorating according to how the space is supposed to look. There are applications online like RoomSketcher that allow you to create your plans before purchasing expensive items that might not work the way you originally envisioned.
Hold yourself and others accountable
People typically spend a large amount of time in their offices. So make sure you are keeping your space clean and organized, if your office space is large and many people are often inside and using it, you might then want to look into professional office cleaning services, for example visit Green Facilities to see how they would be able to keep your offices clean and maintained. You can also set up habits for yourself to keep things in order. Speaking of keeping things in order, maximizing efficiency in this day and age is a must. Looking for the best business energy quotes possible should be at the forefront of any office user. My co-worker decided to find his quote through a price comparison website like Usave. Because of it he made sure he saved a ton of money. If your space is shared, make sure your club members know how you want them to behave while they are in your office. Give people chances to take some ownership of the space, too. You could be very pro-nap about the couch in your office. But another person could dislike the idea of someone having their feet on the furniture. Allowing people to voice their concerns makes it so that they feel like the space is partly theirs, too–which it probably is!
Do you have any other tips for making your space more beautiful? Let us know!