Are you a creative person? Does your art dazzle, amaze, and inspire? Do you want the opportunity to have your original design travel across the country? We have an exciting opportunity for you!
Here's the run down: Swift Kick loves free hugs. We want to spread that love as far as it can go. We're asking you to create a postcard that shows our friends what free hugs means to us.
Every year, Swift Kick asks its awesome community to submit designs for a chance to be featured as our next Free Hugs Postcard artist. Anyone can enter! Once submissions are closed, one person with out-of-this-world creativity will be selected. Could you be the chosen one?
Steps to enter the Free Hugs Postcard Contest:
1. Apply
Send your name, university name, email address, and examples of your designs to [email protected] by June 5th, 2017. We'd love a variety to get to know your style. Images saved as PDFs or JPEGs work best.
2. Wait anxiously to hear back from us while we decide upon our awesome new spokesperson
3. If chosen, CELEBRATE!
4. Create as many Free Hugs postcards as you desire
We like giving our voter's variety, so at least 3 ideas would be wonderful. If you have more in you, though–send them over!
The winning person's designs will be compiled into a Swift Kick blog post like this one, and a vote will take place to select which one will be our postcard for the year. Everyone is encouraged to vote, and then the winning postcard gets printed, signed, and shipped to all our friends with credit to the winner for their amazing creativity. The last day for the community to vote will be June 12th, 2017.
Check out these winning designs from the past for examples of what we're looking for:
Jaxy Stewart, 2016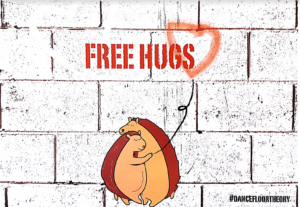 Jasmine Prows, 2015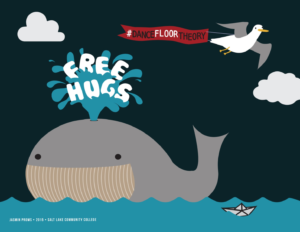 Emma Daitz, 2014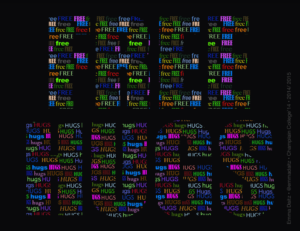 Joy Salzwedel, 2013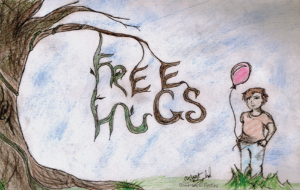 Are you interested in being our next winner? Submit your name, university name, email address, and designs to [email protected] by June 5th, 2017. We'll get back to you when we receive your design and keep you updated on your standing throughout the process. Good luck!